The Environment – Our Purchasing Policy
We are determined to be a responsible supplier and aim to help preserve the longevity of the world's forests for future generations.
Founder and Managing Director Andrew Banks, with over 40 years experience importing of timber products into the UK, is passionate about the environmental benefits of timber over other constructional materials. Much less energy is used in manufacturing timber products than many other constructional materials. Our supplier selectively fell their tree removing only trees of a certain age and diameter removing senile trees that produce less oxygen and encouraging young virile trees that are the lungs of the forest.
Timber products can be renovated and restored, resulting in a cost effective and environmentally sound purchase. Wood is an investment purchase to enhance your environment for generations.
In comparison with other materials, and specially flooring materials, on average the UK consumer replaces carpet or laminate every 6 years – 95 per cent of which goes to landfill. This is before you consider that the energy used in converting trees to usable timber is a fraction of that required to make many competing materials.
We source our timber only from suppliers who work within legal forestry guidelines laid down by their governments. We source 100% of our products from within the EU and any products coming in from outside that zone must meet the EUTR criteria which closely follows the principles laid down by the Forestry Stewardship Council (FSC). Following Brexit UK Timber regulations came into being which follow the EUTR principals. We only import Birch from Sweden outside the EU and all material is FSC mix certified that it has been produced from well managed and sustainable forests.
Andrew Banks is committed to sourcing all sawn timber and manufactured products from companies who have obtained their raw material from legal sources. We are confident that all our suppliers get their logs and sawn material from companies operating within the strict laws and forest management practices laid down by the country of origin.
We can offer many of our products from FSC accredited sources indicating that they have come from an area of forest managed in a manner sympathetic to the environment and ensuring the perpetuation of the resource by responsible management.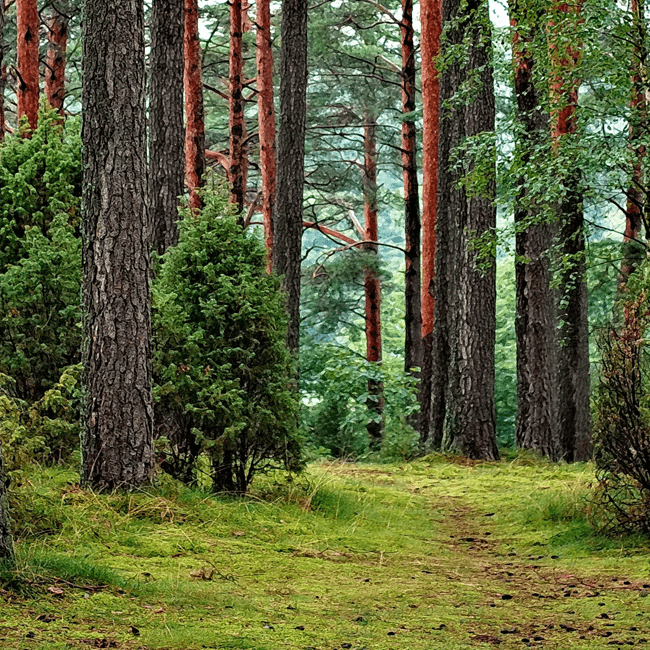 CITIES
We will not source any timber species which are prohibited under Appendix I of Convention of International Trade in Endangered Species (CITES).
Supply areas
We obtain the vast majority of our products from temperate hardwood supply regions and only purchase tropical hardwoods to a very limited extent from companies within the EUTR zone who have subjected their source to the same environmental scrutiny.
Suppliers
We seek to develop long term relationships with our suppliers built on trust, integrity and efficient administration. These companies are asked to supply us with evidence to their continuous improvement of their environmental performance and evidence of the source of their raw material where possible.
Suppliers may not be independently certified but this does not necessarily mean they do not carry out best practice.
Timber Certification
In many countries timber certification is difficult to implement whether the forests are owned privately or by the State and it is an enormous task. However, we do seek to obtain timber from a certificated source when possible and are currently able to offer European timber and flooring, Brazilian decking, and timber mouldings, from Forest Stewardship Certificate (FSC) accredited sources or other internationally recognised certification bodies (such as PEFC) and continue to extend our list of suppliers with these, or similar, credentials.
Your Home Environment
Wood is hygienic and dust free, a feature of particular benefit to allergy sufferers. We suggest the main living, sleeping and children's play areas in your home be converted to wood, particularly if any family member suffers from asthma, as a much healthier option to carpet and other floor coverings.
The Future
Many carbon off setting projects exist and direct air capture is being researched as a way to extract carbon dioxide from the atmosphere. However trees remain, for now, the most effective way to reduce carbon dioxide and increase oxygen in the atmosphere or, if you like, the best DAC tech available. We encourage their continued use within a well managed and sustainable framework.