Teenage parties can take their toll but just give us a call and we can give them the means to clear up or we can offer a professional renovation service!
Wood is one of the world's most versatile floor coverings, providing traditional beauty with practical advantages. The first piece of furniture you might say;
Lasting good looks
Resists stains, including wine and food
Warm to the touch
Easy to clean
Fully restorable
Hygienic and dust free, especially good for allergy sufferers.
Different Species
All wood floors have a different grading as to their hardness and resistance to wear, although their natural properties can be greatly enhanced by the type of finish put on them.
Initial Cleaning
If your floor has been finished with a hard wax oil or a lacquer then it may require a different maintenance programme, please ask.
If your floor has been sealed on site do not use water or any cleaning products on it for the first couple of weeks as it may not be fully cured and may consequently mark more easily. We suggest that you just dry mop, vacuum or sweep the floor to keep the dirt and grit off in this initial period.
Stop Dirt and Grit
It doesn't matter what finish you have on your floor there is one thing to remember. Dirt and grit act like sandpaper to destroy the protective surface of a wood floor. Vacuum, sweep or dust regularly using the a soft fleece or towelling mop. When necessary, wipe clean with a specialist wood floor cleaning solution added to water.
Do not use strong household detergents as this will remove the surface coating.
Use Door Mats
Keep dirt and grit from coming in from outside areas by using walk-off mats placed at all exterior doors.
Care when moving heavy Furniture or Appliances. Apply Floor Protector Pads
All moveable pieces of furniture need soft, clean pads on the bottom of the legs or supports. It is particularly important that furniture removal companies are made to take special care when delivering new furniture. Remember to pick up heavy furniture and do not slide it across the floor until felt pads are in place. These pads enable you to move your furniture, or appliances forward for servicing, without gouging your floor.
Normal Climatic Conditions
Whilst few homes in the U.K. have climate control, it is advisable to keep rooms, where wood floors have been installed, within a comfortable range of relative humidity and temperature.
Humidity should be a minimum of 45% and a maximum of 65% and temperatures between 18 and 22 degrees Celsius. Keeping the flooring within these bands will keep the seasonal expansion and contraction of the floor to a reasonable level. Moving outside these parameters may lead to more extravagant movement.
What about Cracks in the Floor
Wood floors are very sensitive to their surrounding climate. Seasonal cracking and movement is a common occurrence. They expand in humid conditions in summer and contract when the air becomes dry, usually due to central heating being on in winter. Using a humidifier or dehumidifier in conjunction with a heating/cooling system is recommended. Solid floors are more volatile than engineered ones.
High Heels
While high heels in good repair may not damage wood floors ones where the rubber is missing expose a nail head and this will concentrate a person's weight on a very small area (a 9st woman will exert approximately 1.5 tonnes of pressure per inch via her heel!). This kind of force can dent and pit wood floors, fracture ceramic tile and perforate vinyl. We recommend asking people to remove damaged shoes!
Pets
Dog and cat toe nails can scratch a wood floor. It is a good idea to trim them regularly but try to encourage vigorous play – outside!
Use Area Rugs
Some areas of the house experience more wear than others. Area rugs can be used to protect high-traffic areas. Make sure they are kept clean and dry. Shake them out and vacuum all throw rugs frequently. Heavy wear areas such as Kitchens and hallways always have a lot of traffic and here the finish can be topped up from time to time, please give us a call.
Rugs
Many people are shocked when an area rug is moved and there is an outline of the rug on the floor. This happens because the sunlight hits part of the "uncovered" floor and does not reach the floor under the rug. This discolouration can be reduced by moving the rugs often or by using a pigmented finish. If you remove the rug completely, the colour will blend eventually but it will take a while, so be patient!
Moisture
Moisture is the biggest enemy of timber, but there is no problem provided excess moisture is not allowed to stay in contact with the floor for prolonged periods. Any spillage should be quickly removed with an absorbent cloth or mop.
Indoor Potted Plants
Never place plants directly on a wood floor even if they are in a waterproof saucer. Always use trivets or short stands under the pot and saucer so that air can circulate underneath. This will prevent condensation on the saucer from damaging the wood floor. It will also be easier to see if the plant is over watered or if water has spilled onto the floor.
Scratches, Normal Wear and Tear
Whilst a newly oiled floor is touch dry and ok to walk on in 24 hours remember that it will generally take another 7-10 days for the finish to fully cure to it's final hardness, so a little more care than normal during this period will pay dividends in the long run.
The most important thing to do about scratches is to find the cause and take preventative measures to remedy the problem. Scuffing or high traffic wear areas mean gritty shoes or dirty floors.
Lightly scratched areas, which have not worn down to the raw wood, can be treated with proprietary cleaning products and buffed if so wished. This will shine up the area and match the sheen of the rest of the floor making the damage less obvious.
A deep scratch or gouge can often be repaired when the floor is finished with wax oil and aclose match obtained. A lacquered floor cannot be repaired as easily. Usually the only solution is to putty the mark and wait to fix it when other work is done on the floor. Repairs often show more because the newly repaired wood does not match the existing, older floor colour.
If the damage is more severe than this then it is best to consult us. In extreme cases the floor can be completely sanded and resealed. The beauty of a real wood floor is that it can be restored to its original state quite simply. Even with normal wear and tear both wax oiled and lacquered floors should be maintained by regular cleaning. This will help extend the period between recoating and ensure many years of extended pleasure. Every 6 months is adequate in most domestic areas but it can be done more often in areas of heavy wear – ie near the front door, in hallways and kitchens or in commercial environments. You cannot do it too often.
To find out more about our Wood Floor Renovation service please click here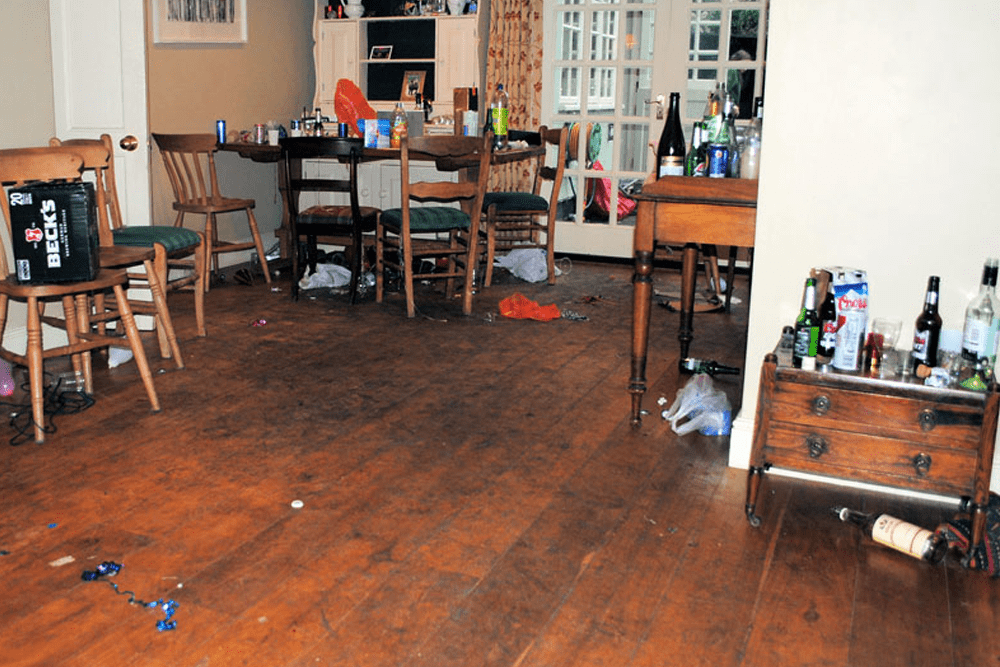 Original floor after a party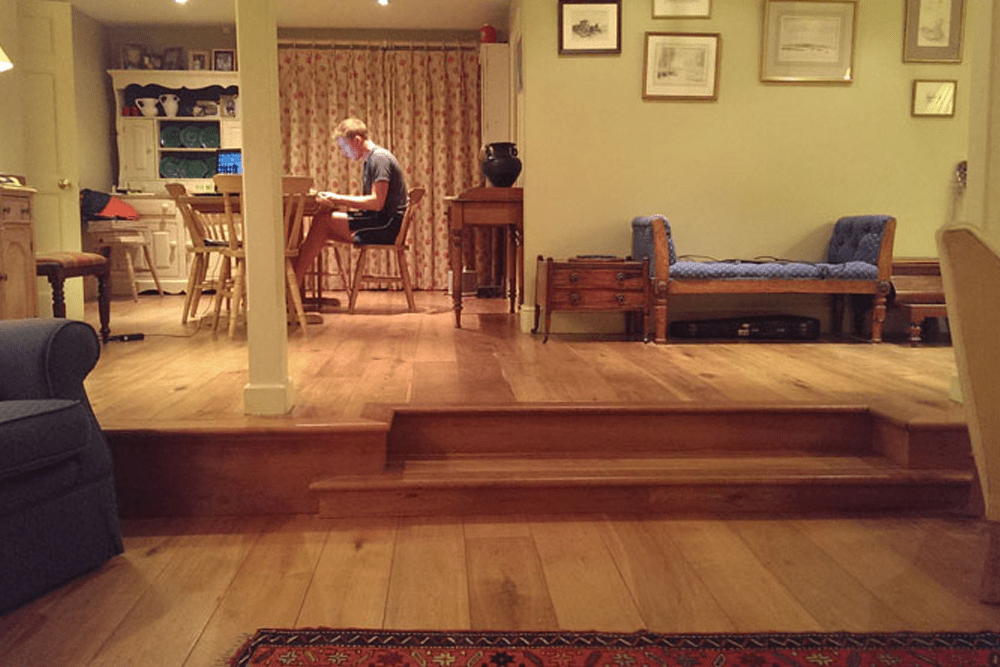 Same floor after professional maintenance